Herculean founder: Yves Vekemans! Yves loves his life! He's passionate about everything he does in his working and private time. He's an energetic business leader, go-giver, coach, customer-person, family man, man of the world. He's a humble warrior who never ever gives up.
He has had the chance to learn from amazing people in different industries, different countries and in different entrepreneurial jobs. He turned a few small ideas in successful multi-million dollar businesses and was awarded youngest CIO of the Year in Belgium back in 1999.
Yves is convinced that dreams, focus, great teams and strong networks can make people change the world into a better place. It's his mantra. He believes that this post-crisis world is changing rapidly towards a collaborative environment with less room for egos and hyper-consumption. He deeply believes that everything we do is all about Energy and Resonance and that there's more in life than IQ and EQ.
Since 2009, Yves focuses on rolling out the Hercules Trophy all over the globe. Now that's a challenge! What was once an insane idea to many, is now a dream coming true.
At the very start of the recession, Yves and his wife Inge decided to take a risk by ending their high-profile corporate lives to start Hercules Trophy International in the basement of their house. In 2 years time, they took the amazing success of Hercules Trophy in Belgium to the UAE, The Netherlands, Spain, South Africa, Germany and the USA. They found rock solid partners in all those countries. They aim for thousands of corporate teams to join the Hercules Trophy in the years to come.
At the end of 2011, Yves and Inge took an extra challenge. They both wanted to do more good through sports. Yves became CMO for Special Olympics Summer Games Europe-Eurasia 2014 and Inge started the Herculix Foundation. In the meanwhile Yves also started teaching for the Real Madrid Sports Management MBA and did a guest lecture at NYU.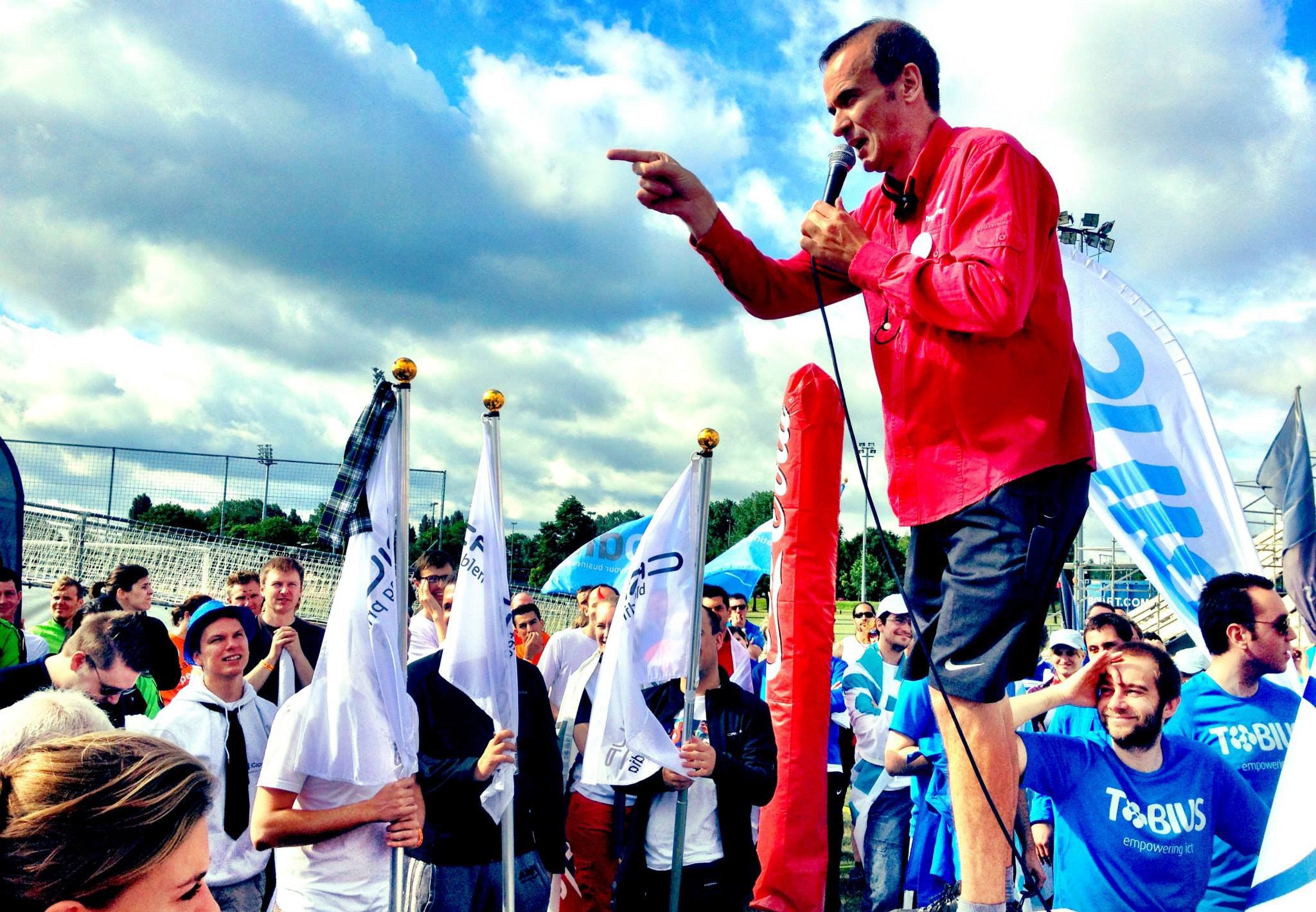 Yves loves to speak for large crowds, enjoys traveling, likes to share his thoughts, believes in long-term relationships, hates politics, has a very broad interest, loves to learn from amazing individuals, absorbs tons of information fast, enjoys coaching different types of people in achieving extraordinary goals and through his abstract thinking capacities he develops a clear vision on complex situations.
In 2014, Yves and Inge met Serge Haubourdin and Sabine Appelmans and together they founded the Hercules Academy to help organisations with holistic and integrated corporate wellbeing programs.
Their last venture is the start of Hercules Projects in which they help organisations with the sportainment know-how that was collected over the years.
Together with Inge, his amazing wife, business partner and soul mate, he raises 3 adorable kids. Showing them there's a world out there is high on their personal agenda. He used to be a multi-sport fanatic but because of his international life and focus on his family he found a new passion in gardening. Becoming a professional gardener is probably next on his professional agenda.
Yves has a Masters degree in Math and IT, an MBA and a special degree in Operations Management. He speaks Dutch, French, English and German and went through all the usual and unusual corporate training programs. His library is bursting with books, some interesting, some not. Unsurprisingly, Yves has Personality Type 3.