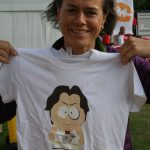 Herculean coach: Gella Vandecaveye! Today we proudly present you our very first true Herculean:
Gella Vandecaveye.
Gella Vandecaveye – born in Kortrijk, Belgium in 1973 – began her judo career at the age of 8. At the age of 15, she transferred to Judoclub Jenos Kwai Hooglede, under her current coach and anchor Eddy Vinckier. Her career as a champion began in 1993, with a first World Title in Hamilton, Canada.
Gella Vandecaveye is an example of willpower, persistence and unlimited ambition.
Today, Gella hasn't lost her spirit. She is a sport consultant and motivates other people to be active.
A unique opportunity to win Gella as your coach! You can watch her interview at the Herculean Coach selection night here or watch another clip of the Hercules Trophy 2013 with Gella here!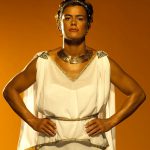 As a senior, Gella has won a total of 11 European medals, including 7 Gold, 2 Silver and 2 Bronze. She is a 2-time World Champion Gold medalist, 2-time Silver and 1-time Bronze medalist. She has been nominated 7 times for the distinction of 'Sportswoman of the Year' by sports journalists, and has received the honor twice, in 1993 and 1997. She has been recognized 4 times as the 'European Judoka of the Year', largely due to her international reputation. In 1999 she was awarded the National Trophy for Sports Merit in recognition of her outstanding career. In 2000 she won 'The Victor'- a trophy for leading sports personalities. In 2002 she was the 'Sports Example of the Year' for her sportsmanship and for the example she sets for youngsters. In 2003, Gella was honored as a 'Great Officer in the Order of Leopold'. She has also received the 'Lifetime Achievement Award'.
You want to work with Gella as a coach in your wellbeing program? Let us know!