Line-up Hercules Trophy Belgium 2014! Summer = Festival season! Who says you can't attend a Festival with your colleagues? In case you've lived in a coma for the past few years: Vacature|Références Hercules Trophy is the coolest corporate Sport Festival on the planet and it's not really an option for you to miss it. Not sporty? No panic. There are plenty of other opportunities to shine like a star. Have a look at the line-up on 14 and 15 June and get ready to party!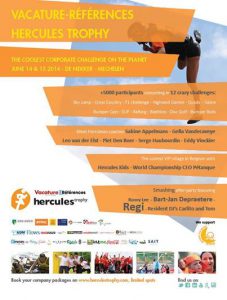 Some of the highlights:
Regi and Bart-Jan Depraetere at the Hercules party
12 super-exciting challenges like Sabre, F1 Challenge, quads, SUP, Sky jump, and many more
Famous athletes Sabine Appelmans, Piet Den Boer, Gella Vandecaveye, Leo van der Elst and Serge Haubourdin coaching their team
Extremely cool Hercules Kids in partnership with Fun and Kids Quads (extra points)
CEO pétanque World Championship: CEO networking
Beautiful corporate Hercules Village with lovely food corners and bars
Hercules Academy corner for mental coaching, Functional Training Network, andullation and massage
Lots of entertainment with Foute Zanger Ronny Lee, the resident Hercules DJ's and a Brazilian touch with DJ Jojocité
Vacature|Références Hercules Trophy
14 & 15 June
De Nekker Mechelen
Book your spots for 15 June now (14 June: sold out). Send an e-mail to info@hercules-trophy.be for more info.