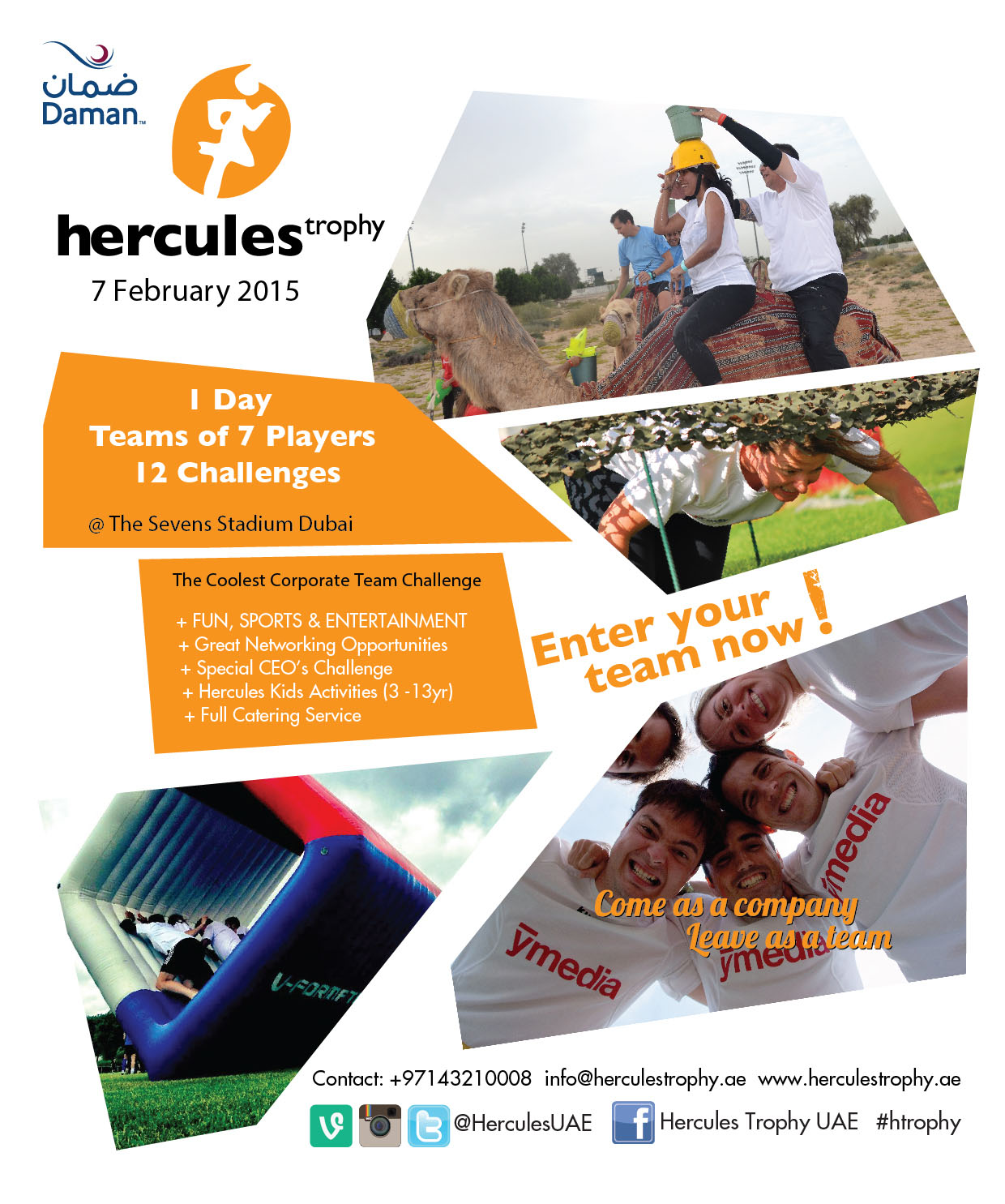 UAE: the first 8 Herculean labours. A business challenge that is positively Herculean – but all in the name of networking, and great fun!
December 8, 2014, DUBAI UAE: With challenges that range from the bizarre to the extreme – and all in the name of fun and corporate team-building – businesses throughout Dubai will be putting staff to the ultimate test when they do battle for the Daman Hercules Trophy next February.
The inter-company one day annual sporting challenge takes place at The Sevens Stadium in Dubai on February 7, 2015. And with up to 140 businesses expected to take part, the battle for corporate pride and glory will be tougher than ever.
The Hercules Trophy concept was founded in Belgium 15 years ago, and has since grown into a popular event throughout the world, mixing staff team-building with corporate networking.
And since its launch in Dubai four years ago, the Daman Hercules Trophy has established itself as an important date in many company diaries.
Indeed, 35 companies have already signed up for next year's event with organisers hoping to attract 140 teams.
The idea of the event is built around companies battling it out in '12 labours of Hercules' – disciplines not normally associated with a traditional sporting challenge.
But added to the pressure is the CEO challenge – where companies select two members of senior management to compete in a game of petanque, the version of bowls that is popular in France. Executives can earn extra points for their team by doing well, so it is always a tense affair!
Those signing up early for next year have more chance to start practicing for the first four announced labours which have just been announced.
Three of the labours announced today are Bubble Soccer, Disc Golf and Flipit, along with Eliminator, Fencing, Kart Building, Cyclokarts and Commando Boxing.
"It's all about having fun," said Inge Van Belle, CSO of Hercules Trophy, Dubai. "It doesn't matter whether you're athletic or otherwise, tall or small, young or old – Hercules Trophy has something for everyone.
"Nor does it matter whether you're the Chief Executive or a new recruit to the company – you're all in there, and battling it out in the name of company honour.
"It's a great way of bonding, having fun, and then, at the end of it all, mixing with rival teams, and networking in a totally different, and informal environment to what you would normally expect."