Resilience: Tales Of True Grit & Tips On Bouncing Back. With the Paralympics starting, I am amazed at the stories of many Paralympian athletes about how sport has given new meaning to their life and enabled them to rise like a phoenix from the ashes.  It are stories about how putting labels on ourselves limits our ability to achieve and how instead, by focusing on our strengths, we can overcome setbacks and soar to new heights.
There is a word for this: resilience. The Mirriam-Webster definition of resilience is "The ability to become strong, healthy, or successful again after something bad happens." They also offer a more plastic definition: "The a ability of something to return to its original shape after it has been pulled, stretched, pressed, bent, etc" This invoked the image of a tree, bending but not breaking in strong winds; good examples are palm trees or willows.
"The greatest glory in life lies not in never failing but in rising every time we fall," Nelson Mandela
It reminded me of a panel which I recently attended, organized by Ellevate Network called "Resilience: Tales of True Grit & Bouncing Back." It featured three inspiring women who shared their tales of misfortune and bouncing back as well as very personal insights into what grit meant for them: Jas Boothe, an Army veteran, cancer survivor and founder of Final Salute, Samantha Ettus, a work-life expert and author, and Karen Davis-Farage, the co-owner of Pole Position Raceway.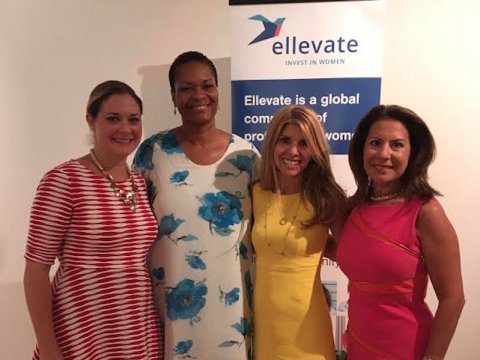 These are the 3 takeaways from their stories on resilience that resonated with me most:
Take care of yourself first.

When Karen Davis-Farage was laid off from her high profile corporate job after 30 years, she knew she had to make herself feel good first so she could be in the right mindset for everybody else, not in the least her 3 kids. Her recommendation: "If you are so down that don't recognize yourself, poor your energy into things that fulfill you". For her that was having fun with her kids and getting in "the best shape of her life" at the age of 52. She ended up reinventing herself and her career and started an indoor go-karting venue: Pole Position Raceways.

Get help from others

When the going gets tough, go ahead and rely on the network you have built up over the years. "This may sometimes be hard for your self-esteem but you will be surprised how many people care", Karen Davis-Farage knows.

Jas Boothe was a major in the US Army reserves, preparing for a deployment to Iraq when she learned that she lost her house in Hurricane Katrina and was diagnosed with cancer shortly afterwards. After she had been discharged from the Army, Boothe's aunt helped her through six months of surgery and radiation treatments, giving her a place to stay with her sun until she got back on her feet. She found that other people were coming to her with to talk about their own issues. She started a non-profit focusing on women veterans and raised $2M. "It is important to be courageous and tell your story, build a community around you", she shares, "Sometimes it takes a village." When she first started working in the non-profit world, she was terrified as it was so different. But she realized that you can learn so much from different people and is adamant about the importance of "always diversifying your network."

Focus on the positive and look forward, not back

"When life throws you a curveball, swing anyway" was Jas Boothe's motto. Being confronted with abuse as a child, she has had her share of setbacks and trauma's in her life. Later in her life, when she had cancer and lost her house to a natural disaster, she also became homeless. She took her struggles of not being supported by the military as a woman veteran to help other women in a similar situation. Her advice: "Instead of focusing on trauma, focus on what trauma taught you. You can't control what happens to you but you can control what happens next. "

"Sometimes not getting what you want is the greatest gift of all," The Dalai Lama.

Samantha Ettus was just writing her first book when she got the shingles, her dad was diagnosed with cancer and her mum had a stroke, lung cancer and died. She could have been easily written this year off as the worst year of her life, but she does not see it that way. According to her, "people who are resilient are the ones that are looking forward".  "Your attitude determines your altitude". She sees confidence as the difference between failure and success in many ways. Her secret to success? "Over the years, I've always been very unafraid to fail." She always looked how she could overcome any setbacks and always has had clear goals in her life.