3 of our favorite granola bar recipes. Are you a granola bar addict? Good for you! Me too. Before I travel, I buy a lot of them. Not only because they're so much better than plane food, but also because they give me a lot of energy to resist jet lag upon arrival.
Granola bars are indeed the Swiss Army knife of snacks: small, portable, napkin-free eats that can tackle a variety of situations. But not all bars are created equal, and unfortunately these tasty bites can be loaded with a lot of sugar and low in fiber and protein.
Instead of having to check the different brands, why not make them yourself? At least, you decide what's in it and it's much cheaper. Here are 3 of our favorite granola bar recipes. The Internet is bursting with good recipes. But what makes these ones relevant for me is that they're really easy and quick to make. I make them during the weekend and enjoy them for the rest of the week.
1. No bake granola recipe
Good news: Not all bars need to be baked. I found this one on AllRecipes.com and it's like the "basic" recipe.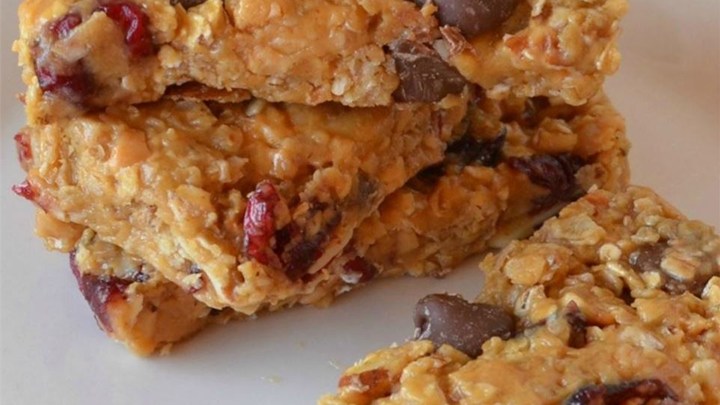 Prep time: 10 minutes preparation + 1 hour refrigeration.
The recipe is great as is, but you can easily add or change depending on your personal preferences. I use natural unsweetened peanut butter. But if you're not a huge peanut butter fan, you could add almonds (and even some choc chips) and lower the amount of peanut butter. If you want more protein, add Chia seed. And an extra touch of cinnamon never hurt anyone…
Ingredients
2 cups rolled oats
1 1/4 cups natural crunchy peanut butter

1 cup ground flax seed

3/4 cup honey

3/4 cup dried cranberries
1/2 cup chocolate chips
1/4 cup sliced almonds
Method
Stir oats, peanut butter, flaxseed, honey, cranberries, chocolate chips, and almonds together in a bowl; press into a 9×11-inch baking dish, using the back of a spatula to press into a flat layer.

Refrigerate mixture at least 1 hour.

Cut into 12 bars and wrap each individually in plastic wrap for storage.
2. Coconut Almond bars
I'm a coconut addict. So it's quite obvious that my favorite bars also contain some of this exotic nut too.  I borrowed this recipe from Sylvia Fountaine from the Feasting at Home blog (have a look at the other recipes on the blog by the way, they're great!).
Prep time: 10 minutes & cook time: 50 minutes.
Ingredients
¾ cup raw almonds, lightly toasted
¾ cup raw cashews, lightly toasted
1 ½ cup unsweetened coconut FLAKES, lightly toasted
½ cup honey
3 tablespoons water
Generous pinch salt
1 teaspoon vanilla (optional)
Other ingredients to add: dried fruit, any other nut, seeds (chia, sesame, flax, poppy), vanilla, puffed rice or millet.
Method
Preheat Oven to 325F (or 165° C). Heat honey, salt, water and vanilla (optional) in a small pot over medium heat until it starts bubbling. Stir occasionally. Lower to med-low heat and continue simmering uncovered until honey reaches 270F (130°C). This will take about 25 minutes on med-low heat, and will happen rapidly once it reaches 250F (120°C).
While honey mixture is heating, lightly toast nuts and coconut, in the oven, just until coconut is fragrant and lightly golden about 8-10 minutes.
When honey has reached 270F or 130C, turn heat off and pour the nuts and coconuts into the pot, stirring well to coat. Mixture may seem dry, but just keep mixing, until evenly coated. Spread out on a parchment lined pan, or baking sheet, to about ¾ inch thick.
Using a greased spatula, spread out evenly and press down firmly,compressing it down as much as you can. Cover with parchment and use the bottom of a cup or pot or even your hands (if it's not too hot) and press down really hard, compacting it as much as possible. This will help the bars stay together when you go to cut them. Let cool uncovered on the kitchen counter for 45 minutes.
Once it has cooled, flip onto a cutting board and with a big sharp knife, cut bars before they cool down completely (otherwise they will break when you try to cut them).
After you cut them, let them cool down completely on parchment (a couple hours) before storing. Store in an air tight container layered with parchment, or just leave them on the counter like I do and watch them disappear. Or wrap them individually with parchment and string.
3. Jamie Oliver's deliciously homemade granola bars
Cook time: 40 minutes plus cooling.
And then, if you like dates, there's good old Jamie Oliver's recipe from his book Super Food Family Classics.

Ingredients
vegetable oil
75 g blanched almonds
250 g rolled oats
40 g sunflower seeds , or pumpkin seeds
100 g runny honey
6 tablespoons smooth peanut butter , or almond butter
10 Medjool dates , stones in
40 g bran
1 teaspoon ground cinnamon
1 pinch of sea salt
50 g sour cherries , or dried cranberries
50 g dried apricots
Method
Preheat the oven to 180ºC/350ºF/gas 4. Lightly grease a 22cm-square baking dish with oil, then set aside.
Roughly chop and add the almonds to a large baking tray with the oats and seeds. Spread them out into an even layer and place in the hot oven for 12 to 15 minutes, or until golden, stirring halfway through.
Gently heat the honey and nut butter in a small pan over a low heat. Meanwhile, slit open the dates, pull out and discard the stones, then place into a blender with 100ml of warm water.
Blitz to a paste, stir into the warmed honey mixture, then leave to cool.
Transfer the toasted oat mixture to a large bowl with the bran, cinnamon and salt. Roughly chop and stir in the dried fruit, then mix in the honey mixture until well combined.
Spoon it into the prepared baking dish, using the back of a spoon to press it into an even layer.
Bake in the hot oven for 15 minutes, or until golden and set.
Leave to cool slightly, turn it out onto a board and cut into squares, then set aside to cool completely. Store in an airtight container.
I hope these 3 of our favorite granola bar recipes will inspire you to get started. I'm sure that your family will enjoy them too!