Romania announces the first 4 challenges: ROMANIAN VERSION BELOW.
Romania announces the first 4 challenges. Spring is already here, which means that we've got great news: what started in Belgium in 1999 as a crazy sports competition is now spreading all over the world, throughout Europe (Poland, Czech Republic etc.), the United Arab Emirates and the United States as the coolest corporate team challenge in the world.
For the first time in Romania in 2017, Hercules Trophy is going to be amazing – it's not going to be an ordinary day, as during the entire day you will get both into sports and mental challenges, all brimming with competition and charged with emotions, teamwork, networking and a lot of fun.
The Hercules Trophy Romania is organized by our Romanian partner,  Universum Events. With more than ten years of experience in large scale events organization, Universum is the only company that's been granted a license for "Hercules Trophy" in Romania.
The Hercules Trophy is entirely family friendly, so feel free to bring your partners and kids. We've got fun activities for spectators, both young and old. The more spectators you bring, the more cheers your team receives and the better it performs!
 Great companies already booked their spots this year. What are you waiting for? Invite your market competitors, customers, friends and challenge them in the field. Get out of your chair and join us at one of the most exciting days of the business year!
The first Hercules Trophy Labours in Romania are being announced! Here is the list of the first 4 labours of 2017 for Bucharest. Are you as excited as we are? Romania announces the first 4 challenges.
Challenge 1: Foot Darts
What an interesting combination for both darts and soccer lovers! As you might suspect, you'll have to play darts with… your feet.
Challenge 2: Eliminator
Be the last man –or woman- standing in the Eliminator. Alternate
between crouching and jumping and prevent getting hit & knocked off your stand, in order to win.
Challenge 3: Climbing Wall
Not just an ordinary climbing wall, but we added some Herculean elements to it. We won't reveal too much now…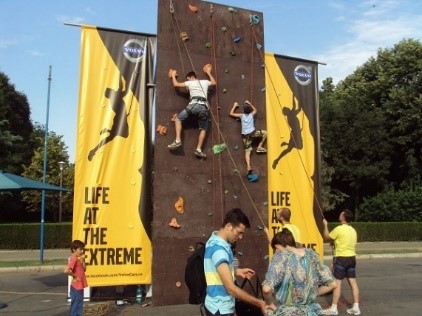 Challenge 4: FlipIt
Participants will step into a cargo container-sized inflatable cube, and as a team will attempt to flip this cube as many times as possible within 2 minutes.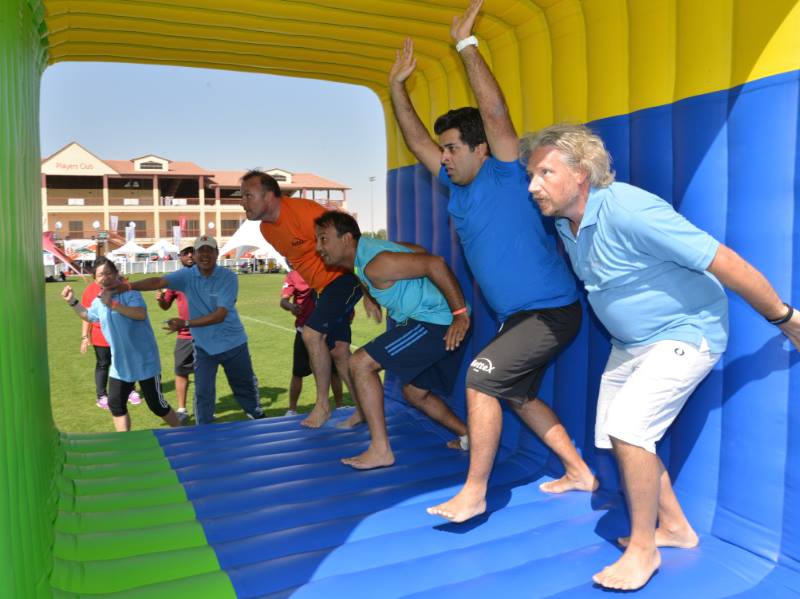 A mix of teamy, tactical and most of all, fun, challenges. More labours to be announced very soon.
Should you want to join us with one or more corporate teams, please do not hesitate to contact us at: +40 722 834 996 or register at Hercules Trophy Romania website (www.herculestrophy.ro) and we'll get back to you as soon as possible.
România anunță primele 4 probe
Primăvara este deja instalată, ceea ce înseamnă că avem vești mari: ceea ce a început în Belgia în 1999 ca o competiție sportivă nebună, a luat amploare în toată lumea, din Europa  (Polonia, Republica Cehă etc.), până în Emiratele Arabe și Statele Unite ale Americii, devenind cea mai cool competitie corporate din lume.
Pentru prima oară în România în 2017, Hercules Trophy va fi o competiție grozavă – nu va fi o zi obișnuită, având în vedere că pe durata întregii zile veți primi atât provocări sportive, cât și intelectuale, toate îmbinate cu competiția și încărcate de emoții, muncă în echipă, socializare și multă distracție.
Hercules Trophy Romania este organizat de partenerul nostru român, Universum Events. Cu peste 10 ani de experiență pe piața evenimentelor de scală mare, Universum este singura organizație din România care deține licența "Hercules Trophy".
Hercules Trophy este un eveniment deschis pentru întrega familie, așa că nu ezitați să vă aduceți partenerii, prietenii și copiii. Vom avea activități foarte distractive pentru spectatori de toate vârstele. Cu cât mai mulți spectatori veți aduce, cu atât mai multă susținere și aplauze va primi echipa voastră!
 Sunt companii mari care deja și-au rezervat locurile la prima ediție de anul acesta. Voi de ce mai așteptați? Invitați-vă competitorii, clienții, prietenii și provocați-i la competiția de pe teren. Ridicați-vă de pe scaune și veniți la una dintre cele mai interesante zile de anul acesta!
Primele probe Hercules Trophy din România sunt anunțate chiar acum! Iată lista primelor 4 probe din 2017, de la București. Sunteți și voi la fel de încântați ca noi?
 Foot Darts
Ce combinație interesantă pentru iubitorii de darts, dar și de fotbal! Cum puteți presupune, va trebui să jucați darts cu… picioarele.
Eliminator
Fii ultimul/a care rămâne în picioare în
Eliminator! Alternează între a te apleca și a sari și ferește-te să fii lovit sau darâmat, ca să câștigi proba!
Climbing Wall
Nu va fi un perete obișnuit de escaladă, pentru că vom adăuga și niște elemente-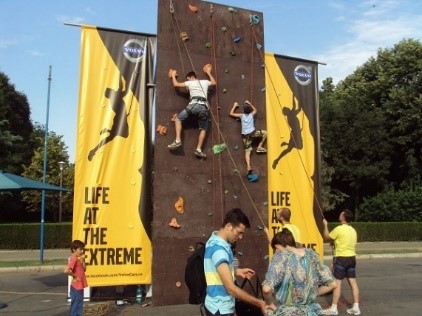 surpriză. Nu o să vă dezvăluim prea multe acum…
FlipIt
Participanții vor intra într-un cub gonflabil și printr-un efort de echipă vor încerca să rostogolească cubul de cât mai multe ori într-un timp de 2 minute.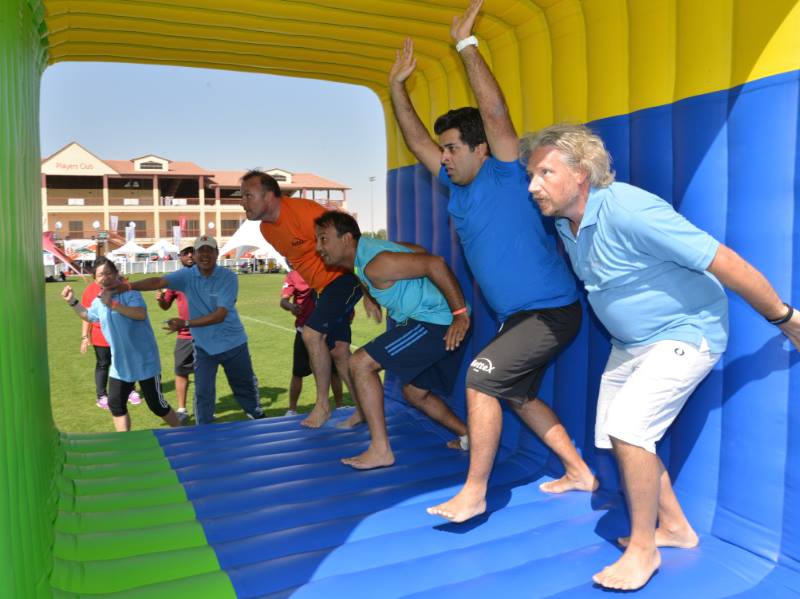 Vă propunem un mix de probe pentru echipă, tactic, dar mai ales distractiv. Mai multe probe vor fi anunțate în curând.
Dacă vreți să vă alăturați competiției cu una sau mai multe echipe, nu ezitați să ne contactați la:  +40 722 834 996 sau să vă înregistrați pe site-ul Hercules Trophy Romania (www.herculestrophy.ro) și vom reveni cu informații către voi în cel mai scurt timp.