Launch of Yamina Krossa Foundation for fundamental cancer research. "Breasts are more important than football", remarkable words by Professor Hugo Thienpont (Vice-Principal Innovation and Valorisation at the VUB) at the launch event of the Yamina Krossa Foundation. The Belgian Red Devils played their first WC soccer game on Monday June 18th at exactly the same time of the event, therefore his statement. But the game didn't stop the die hards to attend this unique moment. A truly unforgettable moment, since it marks a new start and looks back to the accomplishments of BENETIET founder Yamina Krossa.
BENETIET has supported women from 2015 until 2017 after a breast amputation caused by or to prevent breast cancer. Until 2016, this operation was considered "aesthetic surgery" and their was inadequate support from the RIZIV, the Belgian Institute for health insurance. This approach not feasible on a financial level for a lot of women, especially after a long period of invalidity income. BENETIET was founded from a belief that every woman who has had a breast amputation as a consequence of breast cancer, and who wishes a breast reconstruction with own her tissue, has the right to receive it.
On October 19th 2016, Belgian Minister of Public Health, Maggie De Block, announced an agreement containing the full refund of breast reconstructions after breast cancer, as a result of the long lobbying of the non-profit BENETIET. Because their main goal was achieved, BENETIET was closed down as an organisation at the beginning of 2018.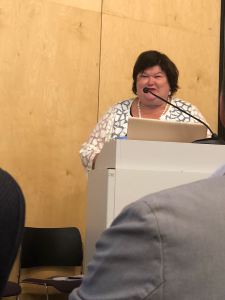 The remaining funds of 40,000 euro were donated to the research for fundamental cancer research of Dr Damya Laoui and her team at the VUB-VIB / VUB Foundation. On a side note, Dr. Laoui was recently named Biggest Science Talent by New Scientist. Together with the VUB Foundation, Yamina will look for extra resources to support the Yamina Krossa Foundation (see video by Maggie De Block).
At Pink Ladies Games, we have been touched by  Yamina's engagement and we want to support fundamental cancer research. Our approach will be revealed during the launch of the Pink Ladies Games finale in Brussels.
Launch of Yamina Krossa Foundation for fundamental cancer research. In the near future, Yamina will launch her book on inner crowdfunding "Make your net-work work"(Pelckmans Pro). Again a touching point with our crowdfunding philosophy that made us win the Award for Best Crowdfunding Campaign last year.
We have known Yamina personally for more than 10 years and her own fight against the disease had moved us deeply. Especially how she managed to support other women who went through the same process. Yamina is also a member of the Straffe Madammen Club, led by Elke Jeurissen. Elke was also the chairman of BENETIET and brought us back together. Another example of how the mission of the Straffe Madammen Club was brought into practice again…
P.S.: You too can support breast cancer research with a gift to the VUB – Yamina Krossa Foundation: account number BE51 0013 6779 3562, VUB Foundation and remark GIFTFO3.