For international Happines Day, Inge Van Belle hosted a webinar of the Dubai Police, to link work happiness, wellbeing and employee engagement. The institution has no less than 23,000 employees. As one of the most progressive government departments in the region, Dubai Police is doing a lot to promote employee happiness, including numerous challenges and workshops, but also community engagement initiatives, female empowerment, biodiversity, and people of determination projects.
It was a fascinating discussion, facilitated by Yara Talib and attended by about 500 employees within the police force.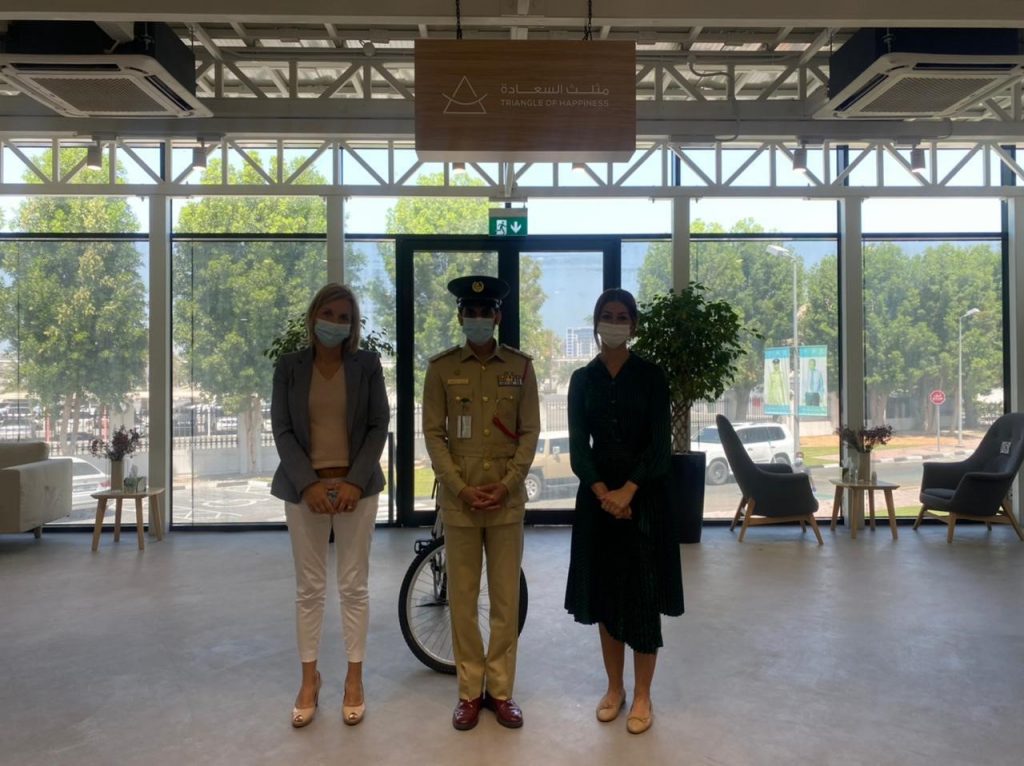 What is employee engagement? What are the advantages of employee engagement?
Employee engagement is often confused with job satisfaction. Although both are related, they are two different concepts. Someone can be very satisfied with their job content and the contact with their direct colleagues and not feel engaged towards their employer at all.
So what is Employee Engagement? Let us go back to the original definition by Professor William Kahn. According to him, you get real engagement when your employees feel emotionally, mentally and physically involved in their work.
In our book, we identify 4 key benefits: 1. Customer Delight, 2. Higher Retention, 3. Strong Brand, 4. Higher Productivity. They arise when employees feel emotionally, mentally and physically engaged in their work.
Where does happiness fall when it comes to employee engagement?
A recent study done during Covid-19 showed that wellbeing at work has become crucial to show your employees that you care. In other words, we must give priority to our employees. However, this does not mean that we should limit ourselves to wellbeing and happiness. Giving employees opportunities to carry out activities together creates a sense of appreciation among employees.
However, this will not solve your engagement problem. Other elements are equally important, including the company mission, leadership, flexible working, diversity and inclusion, etc. By focusing on the different drivers, results will become visible.
How do we recover from the effects of the COVID-19 pandemic?
Although Covid-19 has had a major impact, it has not been all negative. It has brought us some wise lessons.
Firstly, there is an urgent need to focus on connection. By connection, I mean these 2 things:
The connection between people needs to be restored. As many people are craving for social contacts, events and workshops, for example, will be needed.
The connection between employees and their organization. People have to be reminded about the purpose of the company. Especially the Know Why, as this creates a sparkle in their eyes.
The second step is wellbeing. As a company, we should help employees to become a better version of themselves. By balancing 4 main pillars, wellbeing will be achieved. The 4 pillars are Physical, Mental, Nutrition and Social wellness.
The third step is to change the way we organize ourselves. Will we all go back to the office once the pandemic is over? Or will we divide our work into focus time and collaboration time? In any case, the offices of the future will look different, much more focused on activity-based work.
Are there any tips, quotes of advice, any other message to give to the audience?
Yes, of course. There are 2 things that I would like to share.
People need to be aware that when it comes to employee engagement, well-being and happiness, both the employer and employee are responsible.
Secondly, employee engagement is about craftmanship. It's about creating a never-ending energy that everyone in an organization can feel. You can't buy it and it never ends.
I would like to invite everyone of you to see what you can do to create a more engaged organisation.
Know more?
The interview is based on the insights from the book written by Inge and Klaus Lommatzsch. You can find more information in their book "Employee Engagement, What Else?". Inge Van Belle is co-founder of Herculean Alliance. Crafting powerful workforces since 1999. Inge and Klaus are planning to localise the book to a UAE version with local cases and experts like Maha Zaatari, Managing Partner of Herculean Alliance MEA.
You can watch the whole interview on Youtube.