Dubai – May 31st 2021. MobieTrain and Herculean Alliance announce a partnership for the MEA region. Both parties will be present at HR Tech Mena 2021.
"Herculean Alliance is building an ecosystem of experts, formats and technology to help our customers measure and improve employee engagement", says Inge Van Belle, co-founder of Herculean Alliance. "We have been following the immense progress of MobieTrain in the region for a while now and with references like Azadea, Emirates Post and EFS Facilities Services we are convinced we can help each other grow in these post-pandemic times", says Maha Zaatari, Managing Partner of Herculean Alliance in Dubai.
Guy Van Neck, founder of Belgium based MobieTrain adds: "Our mission is empowering every employee with the right content at the right time, making learning accessible, flexible and affordable. With this partnership, we have found a local partner with a long history in the region that understands the importance of an integrated approach."
"Through this partnership with MobieTrain in the MEA region, we extend our HR Tech offering in the region with the best micro-learning solution in the market. Their recent capital round of 4mil EUR confirms they are on the right track", says Yves Vekemans, Dubai based co-Founder of Herculean Alliance. "Originated 20 years ago, we've been active in the UAE region for 10 years with hundreds of customers like Daman Health, ACWA Power, Jaguar Landrover and many more. We are now planning to grow our operations here in Dubai even more as employee engagement is the biggest priority post-pandemic."
The employee knowledge crisis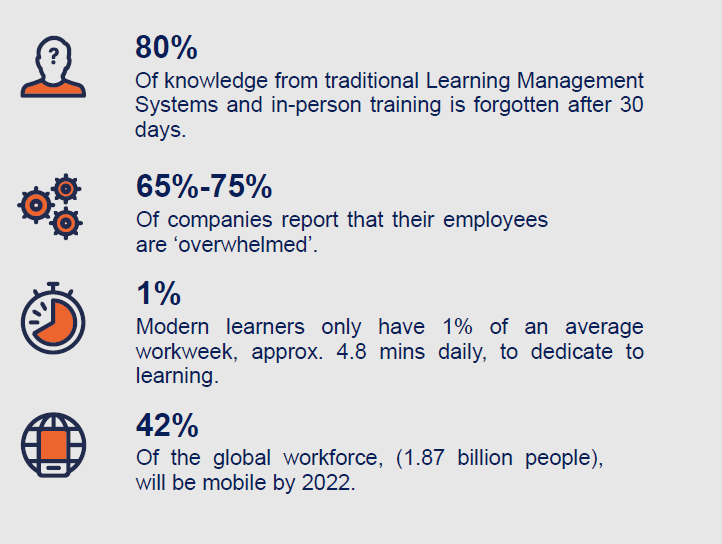 What's Microlearning?
Microlearning is a unique and effective way of training your employees where you focus on providing bite-sized training content. Mobietrain's mobile-first approach allows to consume content remotely, intuitively and on-demand. Combine this with a user-friendly design, gamification elements and retention techniques and you've got yourself the perfect training tool that thousands of people around the world already love to use.
The Importance of Mobile Microlearning
With MobieTrain, your employees are put at the heart of their own learning and development, which leads to better customer experience, higher employee engagement and more productivity. 5 minutes a day. That is all it takes to boost the knowledge of your frontline employees and turn them into actual brand ambassadors.
The Results of Mobile Microlearning
4x more engagement thanks to gamified, bite-sized learning.
50% more retention than traditional training methods.
Increased productivity by 31%
Empowered, engaged and inspired workforce
The easiest, most effective and fun way of training
References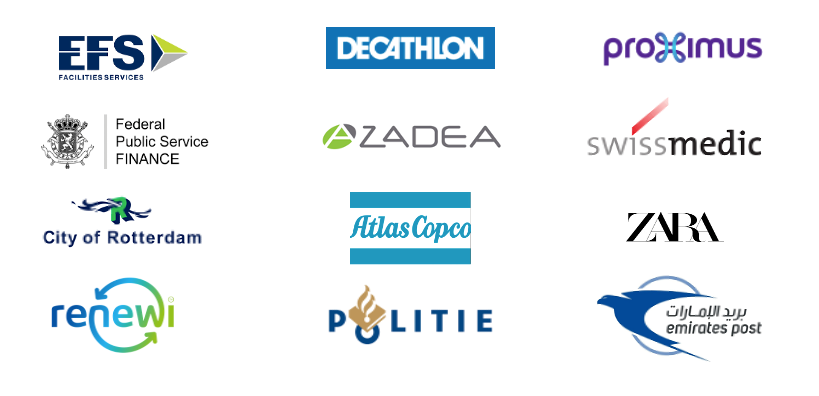 About MobieTrain
MobieTrain is the N°1 Mobile Microlearning Platform where employees can expand their knowledge at any place and moment in a motivating and intuitive way, so they can learn in the flow of work.
The company will be a Silver Sponsor at HT TECH MENA for the third consecutive year. MobieTrain has already won various prestigious awards at events like Unleash, the largest HR Tech conference in the world.
While they already have successful clients such as Azadea, Decathlon, Emirates Post, Diesel, The Dutch Police, The City Rotterdam, Atlas Copco and EFS Facilities Services, MobieTrain also has a UAE-partnership with Herculean Alliance Focusing on content and customer success services.
The MobieTrain platform is predominantly designed for mobile devices, which is particularly useful for deskless employees. Over 100.000 users in over 16 countries already work with MobieTrain to improve their sales and customer experience and diversify their corporate training offerings. It's also the perfect training tool to support change management or to inform employees about new (safety) regulations.
MobieTrain was founded in 2015 by CEO Guy Van Neck and co-founders Mireille van Hemert-Schelling and Willi Van Boven after being recognised for innovation by Chicago Booth Business School (US). Another important shareholder is Force Over Mass, who was the lead investor in their most recent financing round. The company has its headquarters at C-Mine in Genk (Belgium) and also has an office in Lisbon (Portugal).
About Herculean Alliance
Employee engagement specialists. Crafting powerful workforces since 1999. Building an ecosystem of experts, format and technology to help our customers build their tribe. Focused on 4 domains: programs, events, technology and formats. With offices in Dubai and Belgium.