Well-being at work in the province of Flemish Brabant: the Herculean approach.
The well-being of its employees is close to the heart of the province of Flemish Brabant. That these are no empty words is evident from the Personnel Day for all its employees that they organise every two years. But it doesn't stop there: throughout the year the province also makes concrete efforts in this area.
After a few conceptual changes since the establishment of the province in 1995, a fairly ambitious plan was worked out for 2018. The province wanted to profile itself as a dynamic employer. In addition, the need came to light to invest even more in the well-being of employees and their work-life balance.
This prompted the provincial government to change tack this year. For example, it wanted to bundle all initiatives relating to welfare in one and the same route to the staff day. Within that trajectory, the employees took up the challenge of achieving four concrete objectives. The Personnel Day thus formed the final part of those objectives.
Pathway to Staff Day
From our many contacts in the business world, we notice that the current welfare policy all too often places the emphasis on physical well-being. While a large number of employees have just dropped out when the organisation puts too much emphasis on the movement part of ProvincieVlaamsBrabant2018-155. The group that does feel appealed to is typically already very active anyway and does not really need any further support in that area. Other crucial components in the welfare policy, such as the mental, social and nutritional aspects, are overlooked in one fell swoop. In this way, of course, many well-meaning initiatives risk losing their purpose.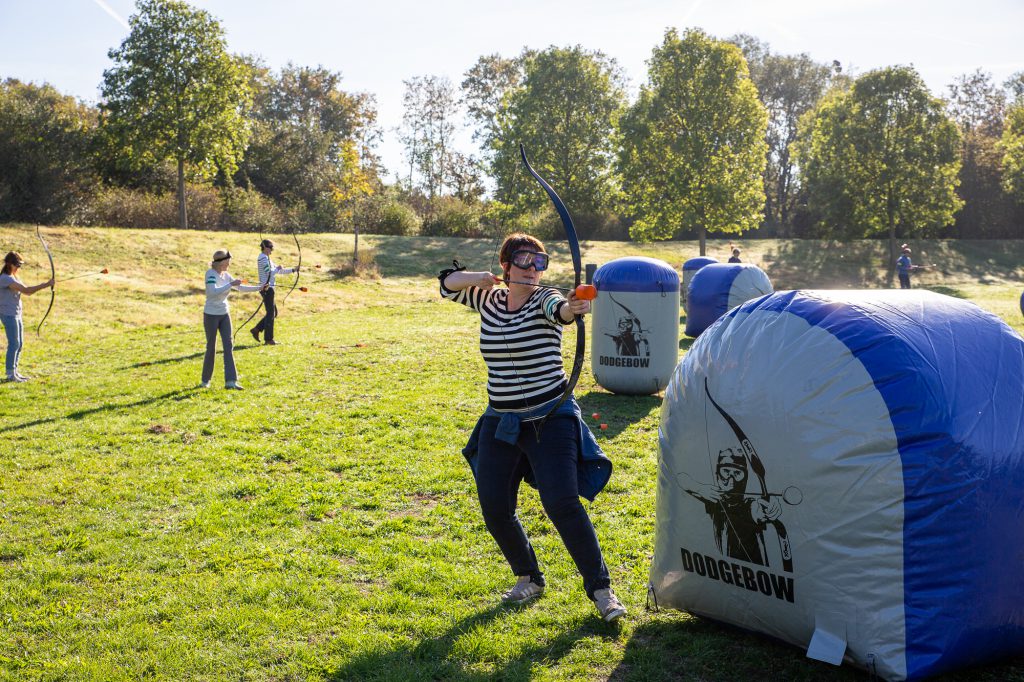 At Herculean, we have been arguing for years for a holistic approach (Mental-Fysical-Food-Social), in which the human being is considered as a whole, without the classic boundary between private and working life. In doing so, we cannot stress enough that the different aspects must exist in balance. An example to illustrate this thesis: practising sport in a fanatical way without attention to mental rest or an attention to family or friends is rather destructive to a person's resilience.
Moreover, not every employee is triggered in the same way. By first giving employees the opportunity to connect to 1 of the 4 goals that best suits them, they are included in an evolutionary path.
We also want to make employees as responsible as possible for their own well-being and not only shift the responsibility for this to external factors. Twelve weeks will suffice to learn new habits. If new habits are practiced on a daily basis, the employee takes a natural interest in the other objectives and gets the feeling that this change comes from him/herself. This evolution is much more powerful than a signal coming from outside.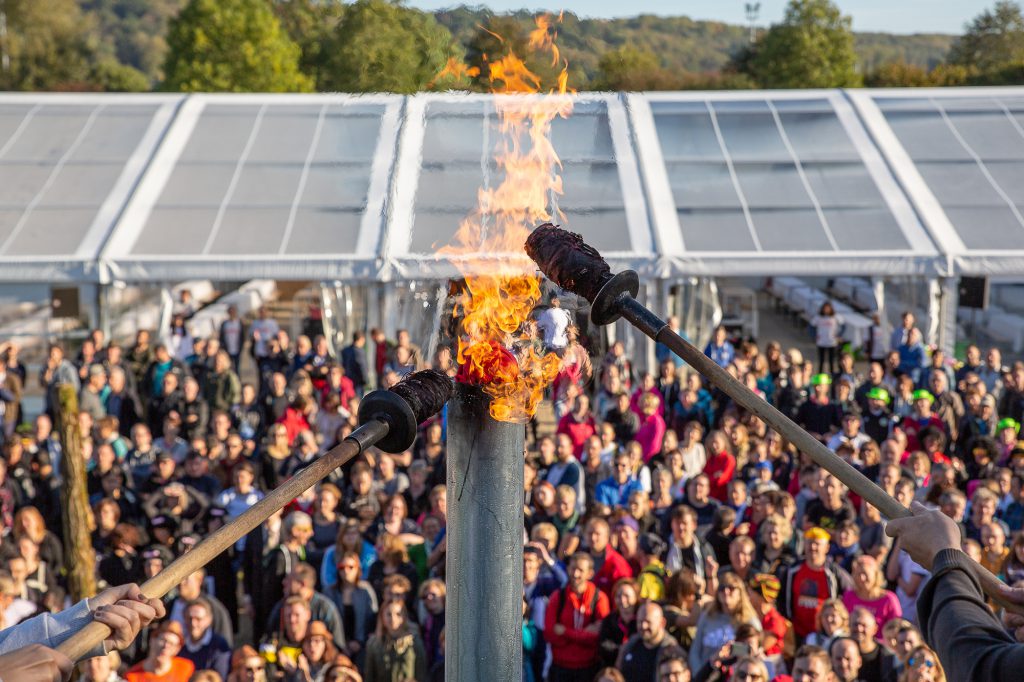 In this context, 4 objectives have been set, which are briefly described below. How can you become more complete, more balanced? As a human being? As an employee? By pursuing these 4 objectives. You will be supported by your employer, the Province, but also your own spontaneous initiatives are welcome, both at work and at home.
MENTAL balance: dealing proactively with stress, overload of (digital) information, personal evolution, discovering talents, preventing burn-out phenomena.
PHYSICAL balance: moving sufficiently at your own pace, with respect for the body and taking into account a sedentary profession and hectic pace of life.
FOOD balance: nutrition is the best medicine. Attention to a healthy and realistic diet.
SOCIAL balance: contact with colleagues, friends and family is decisive for personal well-being. Overlapping of individual and organizational values.
This stimulation, monitoring and measurement is carried out by the welfare platform – for the occasion dressed up as the province of Flemish Brabant. And that is immediately
the greatest added value. After all, registered employees can enter their own actions, register for events, search for inspiration, encourage each other,… and thus view their own balance sheet.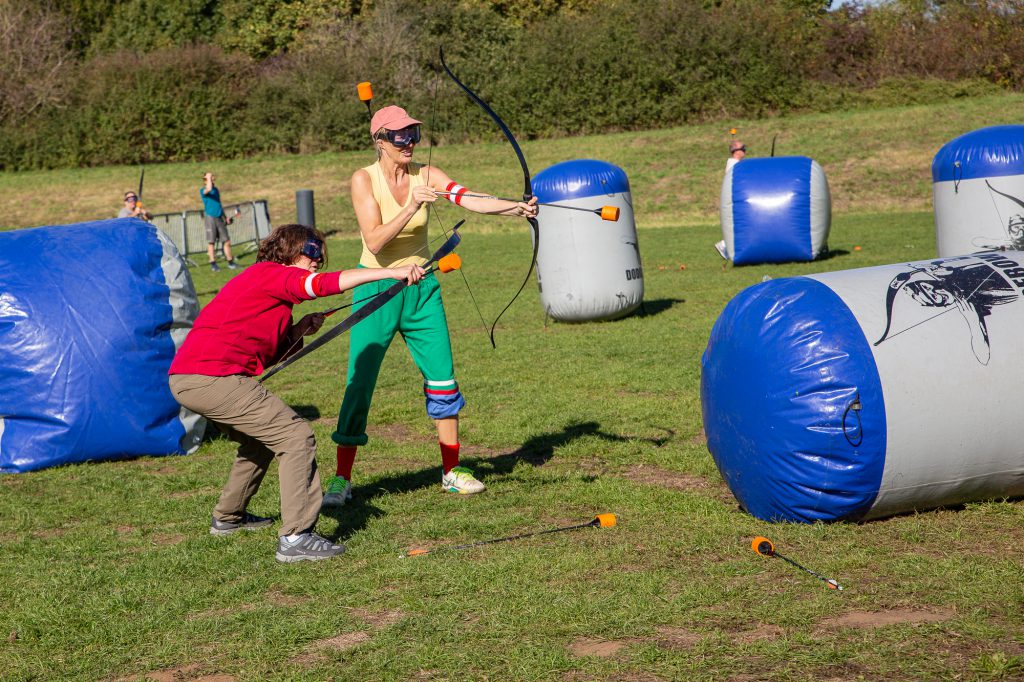 Staff Day
The end of the route – the Day of the Personnel – consisted of a sporting competition in a festival atmosphere at the Provincial Domain in Kessel-Lo. Although "sporty" is rather misleading: convivial get-togethers in a nice atmosphere were the main focus, complemented with fun challenges and attention to meetings between colleagues. In teams of 5-7 players, the employees took on 8 different challenges that were accessible to everyone. In teams of 5-7 players, the employees took on 8 different challenges that were accessible to everyone. The whole day was also dedicated to the 4 objectives that were set out in the previous phase: Mental – Physical – Nutrition – Social Balance.
After breakfast, colleagues were almost immediately able to digest a solid brainteaser. After warming up, the first challenges were on their doorstep. After that first series of activities, everyone visibly enjoyed the soup and pasta buffet. With that more than necessary dose of carbohydrates behind them, it was time for the final activities. And whether the participants enjoyed it! Just before the award ceremony the colleagues were treated to a wide range of Flemish Brabant specialties. For delicious food and drinks, you really don't have to look far.
Just like in the preliminary phase, communication is the key to success here. This took place almost entirely via the welfare platform, where the teams could also personalise their own (team) profile to their heart's content with a team photo, slogan, etc. In this context, too, the welfare platform took away most of the administrative hassle, so that both the province and we could focus on what really matters: creating a maximum experience. And the officials will hopefully talk about the result for a long time to come.
Do you also need help coming up with and rolling out your employee engagement playbook?
Herculean Alliance builds an ecosystem of employee engagement specialists that help organisations measure and improve engagement.
More and more business leaders indicate that employee engagement is high on the agenda. However, Gallup research shows that 87% of employees are not engaged.
"In the age of digital transformation and war on talent, employee engagement should be our number one priority."
This area of tension raises the question of the most effective way to build a strong community. Not an easy task with 4 generations on the shop floor, it turns out. A new kind of leadership is required.
At Herculean Alliance, we believe in an artisanal approach that combines 3 key elements (culture, tools and physical location) across the entire employee experience. Corporate Social Responsibility can function as the glue.
To meet these complex challenges, the Herculean Alliance therefore builds an ecosystem. A networked organization of specialists in employee engagement that helps organizations to measure and improve engagement within their community. After all, employee engagement and customer satisfaction are inextricably linked.
Our approach? We divide it into 4 pillars: Programs & Methodology (Aura), Events (Fabrica), Platform (Machina) and Formats (Arena).